"Welcome one another, therefore, just as Christ has welcomed you, for the glory of God." Romans 15:7
Through this web site, we are pleased to be able to introduce you to that same worship and fellowship as it is expressed in the life of our Parish. If you are a new member of our parish, or are considering membership, these web pages will acquaint you with what our parish offers to those who give it support and sustenance; to those who already belong to the church, we hope they will provide you with the assurance that your sacrificial offerings are received with profound respect, and are utilized to maximum effectiveness. They will, in any case, enable you to make the informed decisions that are necessary for a meaningful relationship with your church!
---
* All Worship Services are streamed live on this website (see link to the right) and are archived on our All Saints YouTube Page
Temporary Church Office Hours:
Monday - Thursday 9:00 AM - 2:00 PM
* Click HERE to see our Parish Calendar and follow all of our daily events
Due to the COVID-19 Pandemic and the retrictions of both the Metropolis of Pittburgh and the State of Pennsylvania, please see our "Covid-19 Updates" tab for the most up to date information rgearding Church attendance and policies.


Upcoming Worship & Events
Nativity Fast - No Meat & Dairy (Fish, Wine, Oil allowed except for Wed. & Fri)
Nov 15
Orthros & Divine Liturgy (Memorial Service for Departed Archons of the order of St Andrew...Mary Karavolis (2) & John Karavolis (38yr) offered by Family, Luke, Mike And Artie) (Artoklasia offered for the Ecumenical Patriarchate of Constantinople and the Archons of the Order of St Andrew)
Nov 29 9 am
Parish Council Meeting
Dec 1 7 pm
CBG & Houston Ministerial Assoc. Meeting
Dec 2 12:30 pm
Canonsburg Hospital 100 Medical Blvd North Strabane PA 15317 United States

---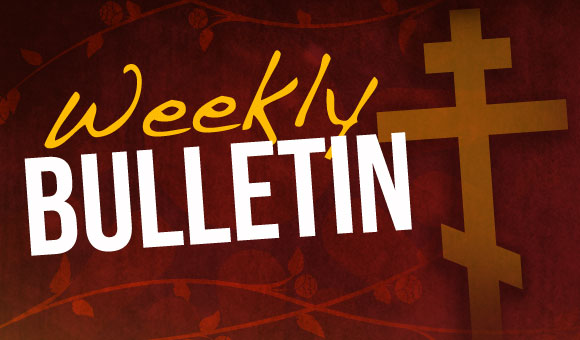 ---

Become a Steward/Supporter TODAY!

For 2020 Pledges click on:

2020 STEWARDSHIP

tab.

For All Other Donations to All Saints Greek Orthodox Church please click on the

DONATE NOW

tab.
The success of our Ministry is grounded in the committment of our Stewards/Parishioners and Friends of the Parish throught unselfish offerings of Time, Talent, and Treasure. We would love to have you as a valuable supporter of our Ministry. Go to the Stewardship link at the top and become one TODAY!
---